I found so many hyped reviews about Cash Juice and I wanted to see what it was all about. It was getting too much hype and sometimes it makes it hard to believe. So here is what I found about Cash Juiceas advertising source. 
Cash Juice Review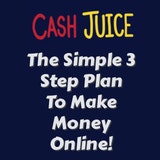 Name: Cash Juice Online
Website: cashjuice.com
Price: Sign-up is Free, Premium
Scheme Type: Online Marketing Social Platform
Owners: Darren Merret
Overall Rank: 60 out of 100
Cash Juice – Main Overview
So Cash Juice is a social platform for affiliate marketers to advertise themselves, their product and get some tips. The say they want to make money from (ahem, for) you and to help you in order to make money online.
All you need to do is blog in their space then promote some products then viola, money online.
Begs the question, is it too good to be true?
The Good in Cash Juice Online, which looks Legit
It does have a feel that they want to help and some good to it. Here are some of the pro's that I encountered.
Their dashboard looks easy and simple to use. The navigation seems to be great and there is a few analytics to help you see if you are earning or gaining
There is quite a number of support and assistance on the page, with videos, step-by-step walkthroughs, and a strong community with their tips and advice.
There is a 60-day-money-back guarantee if you are not satisfied with using their program.
What About The Shady Side of Cash Juice
Well Cash Juice is not the end all and absolute answer to making money online:
The initial page does not tell you much of what it really does so people in general aren't as interested in it as with other programs which have more users and more exposure. It is done in a very rudimentary way.
There is only 1 payment method which is by direct transfer, it does not support other methods of payment such as Paypal or Skrill. I have not seen people who have actually been paid as well.
The founder himself (Darren Merrett) is the owner of Traffic Adbar, which itself is just doing okay. He just decided another one with another name would be better.
Who is Cash Juice For?
It can be for anyone who just started with affiliate marketing and wants to pick up on some good tips or a seasoned marketer who is just there to promote his product to more people.
Cash Juice's useful Tools, Training & Support
The good thing I mentioned earlier is that Cash Juice does offer an assortment of training and videos for you to get started. The community itself also seems to be supportive offering tips and advice on good landing pages and over internet marketing.
Prices Mentioned in Cash Juice
There is not a lot of Upsells which is good to see, they rely mainly on people upgrading to premium which is $29. If you are not happy you can get your money back within 60 days.
What Do I Think of Cash Juice
It is a really good concept as everyone needs help in the affiliate marketing world. We all need advice and pointers on what to do and what niche to pick out. Cash Juice does just that. Though if you want to go premium it is up to you as the tools and other stuff it provides less than what I used. Most importantly, you still need hard work and dedication in order to make a program a successful creation 
You can check out what I use here. If you want. 
In Short Cash Juice Online…
Name: Cash Juice Online
Website: cashjuice.com
Price: Sign-up is Free, Premium
Scheme Type: Online Marketing Social Platform
Owners: Darren Merret
Overall Rank: 60 out of 100
VERDICT: LEGIT, they want help. Make sure that using it will HELP not HINDER your affiliate marketing success.
Any ideas of using Cash Juice? Anything I should look out for? Please leave a comment to let me know.